Full Spectrum
SKYLAR – CBD Oil for Pets
300mg
/

10mg per serving
---
View The Lab Report
SKYLAR – CBD Oil for Pets
$34.95
In stock
Full Spectrum CBD Oil for Dogs and Cats
Give your furry friend the relief they need and deserve in as little as an hour.
SKYLAR CBD Pet Oil is the best way to help your dog or cat stay calm, comfortable, and happy. Full-spectrum CBD infused with Wild Alaskan Oil to create a drool-worthy blend that is sure to become your pet's new best friend. 
Made with only the finest, all-natural ingredients, SKYLAR is the perfect companion for pets who may be experiencing stress, hyperactivity, separation anxiety, digestion issues, or mobility problems, SKYLAR is safe for pets of all ages and contains only the finest all-natural ingredients. 
Full Spectrum Organic Hemp Extract (CBD)

Optimal Strength /10mg CBD per Serving

Organic MCT Coconut Oil

Wild Alaskan Salmon Flavor

1 fl oz (30 ml)
---
Product Information
Natural Ingredients

Non-Intoxicating (Less than .3% THC)

USA-Grown Hemp

No Fillers, Additives, or Preservatives

No Artificial Flavors, Colors, or Sweeteners

No Chemical Fertilizers or Pesticides

Non-GMO and Gluten-Free

Third-party Laboratory Tested

GMP (Good Manufacturing Practice)
The Cannovia Experience – Meet Skylar
Skylar is Trevor's paw-tner in crime and Cannovia's baby girl, a bundle of love and pure joy, with lots of excitement about everything. She's the life of the party.
She just turned one year old and has recently started her daily wellness journey with CBD. And she's absolutely loving it!
She loves to have fun, but like all young dogs, she can get excited easily. Skylar is very attached to Trevor and her people, and gets very anxious when left alone.
And that's where CBD comes in – it helps her to stay calm and balanced, without affecting her energy or personality.
It's been a game-changer for her – and for Trevor. He's now able to take her out on walks and (her favorite) adventurous hikes, without having to worry about her getting too excited or being too much for other people to handle.
And he's not the only one who's noticed a difference. Everyone who meets her says she's the happiest, and most well-adjusted dog given her young age!
CBD helps her stay calm when the high spirits of youth want to take over and it supports her ongoing physical and mental balance as she continues to learn the proper etiquette of being a dog living in a human world.
We can't recommend it enough for other young dogs who could benefit from a little extra help in managing their anxiety or stress and are so full of life – like Skylar!
CBD has been a great benefit for Skylar – and we know it can be for your, (young or senior) pet as well.
---
CBD Oil for Pets –  A Paws-itively Helpful Compound
Have you ever wished you could bottle up all the best parts of taking your pet for a walk on a sunny day—the feeling of the sun on your face, the smell of fresh-cut grass, your dog's unbridled joy at being outdoors? 
Well, now you can give your pet the next best thing – SKYLAR CBD Pet Oil.
A CBD oil that's just as good for your pet as it is for you. Made with the same full spectrum organic CBD as our human-use products, SKYLAR is the perfect way to give your furry friend all the benefits of CBD.
What is CBD Oil for Pets?
You may have heard of CBD oil and its benefits for humans, but did you know that this incredible oil can also be beneficial for your pets?
CBD is a compound found in the hemp plant. Unlike THC, another compound found in cannabis, CBD does not have any psychoactive effects. This means that it will not make your pet "high" as marijuana would.
CBD oil is short for cannabidiol oil. It is typically made by extracting CBD from the hemp plant and then adding it to a carrier oil, such as argan oil or coconut oil.
Many pet owners use CBD oil to ease their pets' anxiety, pain, and inflammation. 
How Does CBD Oil for Dogs and Cats Work?
As anyone who has ever owned a pet knows, they can be prone to stress, anxiety, and pain, just like humans. What many people don't know, however, is that our furry friends have an Endocannabinoid System (ECS) just like us. 
The ECS is responsible for maintaining balance in the body by regulating stress responses, calming anxiety, relieving pain, easing inflammation, immune response, pain sensation, appetite, mood and more.
 In other words, it can help to keep our pets' minds and bodies in a state of homeostasis.
CBD oil is derived from hemp plants and contains high levels of CBD (cannabidiol), a cannabinoid that interacts with the ECS to produce a variety of health benefits.
Full Spectrum CBD Oil for Dogs and Cats
If you've ever done any research on CBD products, you've probably come across the terms "full-spectrum", "broad spectrum, and "isolate." But what exactly do these terms mean? And why is full-spectrum CBD oil generally considered to be more effective than isolates?
As the name suggests, full-spectrum CBD products contain all of the compounds found in the hemp plant, including CBD, THC, terpenes, and other cannabinoids. This "whole plant" approach creates what's known as the entourage effect, whereby the various compounds work together to produce a more powerful effect than any one compound alone. 
Broad-spectrum CBD oil is a type of CBD oil that has had certain compounds removed from it. Companies usually remove traces of THC from the hemp oil extract when they create broad-spectrum CBD oil.
In other words, full-spectrum CBD is more than just the sum of its parts.
In contrast, CBD isolate products contain only pure CBD, with all other compounds removed.
This may sound like a good thing, but in reality, it means that broad spectrum and isolate products are less effective than full-spectrum products. That's because the entourage effect is lost when THC and other cannabinoids are removed from the equation. 
So if you're looking for a CBD product that will be truly effective, be sure to choose a full-spectrum CBD oil for dogs and cats.
Benefits of CBD Oil for Dogs 
Just like humans, our pets can suffer from a variety of ailments. From anxiety and stress to chronic pain and inflammation, there are a number of issues that can plague our furry (and not-so-furry) friends.
Luckily, CBD has been shown to be potentially effective for many of these conditions, from anxiety to chronic pain.
As research is still ongoing, we as a brand, cannot legally make any health claims. But, we can tell you that scientists are currently researching CBD oil as a potential treatment for many health conditions in pets including:
Pain(arthritis and osteoarthritis), anxiety(separation, loud noises, fireworks, etc.), nausea, appetite, epilepsy, seizures, and much more.
Let's take a closer look at how CBD oil can help your dog feel its best.
Many pet parents have started to give CBD oil to their dogs because of its amazing potential benefits. Here are the most common reasons dog owners are using CBD oil:
Promotes calm and eases discomfort in pets

Keeps them playful, active, and comfortable

Improves their digestion and eases upset stomach

Offers natural support during restless days and nights

Helps relieve stress in your pet, leading to a fuller, happier life

Helps senior pets stay mobile and playful as they age – keeping their routine and cheery personality intact
There is tremendous anecdotal evidence by people who suggest that CBD oil may be a great help if your pet suffers from separation anxiety or gets nervous during thunderstorms or fireworks. 
Many dog owners also report relief after using CBD oil for their dog's joint pain. Finally, if your pet has dry skin or a dull coat, you may find that using a product with CBD oil might be worth a try.
Benefits of CBD Oil for Cats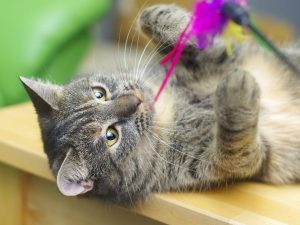 Don't worry about finding a cat-specific product, cats are just as happy with a cat–sized serving of SKYLAR CBD Pet oil in their daily lives! The great thing about CBD oil is its natural ingredients make it perfect for cats and dogs. 
SKYLAR will provide your cat with the same amazing benefits that dogs experience! Moreover, our CBD Oil is perfect for calming easily scared, aggressive, and anxious cats and boosting their well-being.
How Do I Use SKYLAR CBD Oil for My Pet?
It's easy! You just need to shake the bottle gently. Then using the plastic graduated dropper, fill it with the measured amount for your pet and squeeze directly in your pet's mouth or add a few drops in their food or add it to their treats.
There are many ways that dogs and cats can receive this beneficial treatment; all it takes is one little bottle of CBD oil.
There are a lot of different ways you can use SKYLAR for your 4 legged friends:
Daily Wellness
For a healthy lifestyle, try including CBD as part of your pet's wellness routine. Along with exercise and good nutrition, you should also provide playtime and plenty o'sleep to keep them mentally satisfied while they're awake!
If your pet experiences a sudden unusual event that scares or makes them anxious
Compliment your pet's daily CBD routine with a boost with more CBD oil to provide extra support:
Pre-Trigger Events – Preventive
If your pet is known to react badly to certain events, like fireworks or storms (they may be scared or confused by the loud noise), guests (human and furry) who visit often and stay overnight such as friends visiting over summer vacation; vet trips to get their nails clipped or kennel stays while you're away on a business trip – then offering them a boost in CBD (increase the amount or frequency) to provide additional support will help ease any anxiety they feel! 
You'll want to give it to your pet 30 minutes before any stressful event.
Post-Trigger Events – Response
If you were surprised by a stressful event that set off your pet, who is experiencing anxiousness and unable to settle, or has minor, temporary discomfort. Then give a boost of CBD, another serving, to help calm and comfort your pet.
SKYLAR CBD PET Oil Dosage Recommendations
The exact amount will vary depending on your pet's weight and the level of support they need. Always start with a small dose and  increase the amount given gradually  as needed.
CBD Oil Dosage for Dogs and Cats is the same, it varies by weight: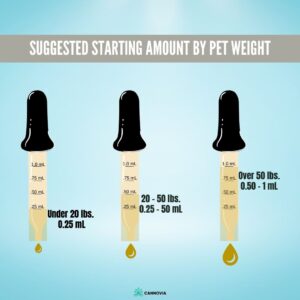 As with any new supplement, always start with a small dose and gradually increase  as needed. If you notice any adverse reactions in your pet after giving them CBD oil, stop giving it to them and consult your veterinarian immediately. 
Is CBD Oil Safe for Cats and Dogs?
While there is still some research to be done on the long-term effects of CBD oil use in pets, most experts believe that it is safe to use on both dogs and cats as long as the oil is derived from the hemp variety of the cannabis plant.
What is the Best CBD Oil for Dogs and Cats?
SKYLAR is the best CBD oil for dogs and cats, hands down. Our organic CBD oil is made with only the highest quality ingredients to ensure that your pet gets the most benefits possible.
Made with only the finest hemp extract, our pet CBD oil also contains organic MCT oil and Wild Alaskan Salmon Oil which is rich in Omega-3 and Omega-6 fatty acids, and essential for your pet's health and overall wellness. 
Wild Alaskan Salmon Oil?
Cats and dogs are generally fans of the flavor, and the oil is also rich in vitamins and minerals that your pet needs to stay healthy and happy. We're so confident in our products that we offer a money-back guarantee.
Why is it important to buy high-quality Organic CBD Oil for Dogs and Cats?
When it comes to CBD products for pets, not all products are created equal. In order to ensure that your pet is getting the most benefit from CBD, it is important to choose high-quality cat and dog CBD oil products. Inferior pet CBD products may be ineffective or even dangerous. 
Some contain harmful chemicals or fillers, while others don't contain enough CBD to be effective. That's why it's important to do your research and only choose products from reputable manufacturers. 
By choosing high-quality CBD products for pets, you can rest assured that you are giving your pet the best possible care.
Third-Party Testing
One way to identify high-quality CBD products is to look for those that are third-party tested. Third-party testing ensures that the product contains the amount of CBD claimed on the label and is free of any toxins or contaminants. 
Source of the Hemp Used
Cannovia's CBD products use CBD extracted from organically grown hemp plants in the US. This ensures that our CBD is of the highest possible quality and purity. 
By choosing high-quality CBD products for your pet, you can be sure that your pet is getting the most benefit from this natural remedy.
Extraction Method
We use a supercritical CO2 extraction process to extract CBD from the hemp plant. Our process uses pressurized carbon dioxide to extract CBD from the hemp plant, resulting in a product that is pure, potent, and free of harmful chemicals. 
This method of extraction is the gold standard in the industry and ensures that our products are of the highest possible quality.
Certificate Of Analysis
One way to identify high-quality CBD products is to look for those with a certificate of analysis. This is a document that shows that an independent lab has tested the product and that it meets the required standards.
Choosing a CBD product with a certificate of analysis is a sign that you are getting a high-quality product. The certificate of analysis will also show the product's levels of THC and CBD. This allows you to ensure that your pet is getting the right dosage of CBD.
Cannovia's CBD products are third-party tested and have a certificate of analysis. This means that you can be sure that you are getting a high-quality product for your pet. Our products are also free of contaminants and contain the correct levels of CBD.
How our CBD helped Carlee!
Carlee, a standard apricot poodle, was the much-adored pet of our team member, Patricia, and thanks to CBD oil in her senior years, she could continue to enjoy life on her terms!
And her terms meant being physically active and mentally happy.
Carlee was always full of energy. Her daily routine included a long morning walk in the neighborhood with her canine besties and their humans. And then a front yard play session with her basketball – carrying it in her mouth, running like a 'racehorse', and being a 'bucking bronco'. She finished each day with a nightly game of retrieve and squeak with her favorite Dragon. 
But, like all of us, as she got older she started to feel the effects of time. As Carlee entered her senior years, Patricia noticed her beloved pet was starting to slow down, she could no longer go on long runs or play as much as she used to.
Patricia introduced CBD Oil to Carlee in her later years to help with the aches and pains that come with being a senior dog. And it was a game-changer!
As she prepared for her cross-over to the rainbow bridge in her last few weeks of life, she continued to play as she was physically able and found joy and comfort in her indoor playtime and brief walkabouts in the yard.
CBD gave Carlee the quality of life she deserved in her older years.
Yes, she was a happy and active dog for all her 11 years.
Patricia supported Carlee's late senior years with daily CBD and boosted that support for the last few months. Now we cannot absolutely know what part CBD had in keeping her active, physically comfortable, and joyful.
But we do know that senior Carlee continued her activities with no indications of joint pain or stiffness and remained the funny, sweet girl she had always been.
This experience was the catalyst for Cannovia to research how other pet owners used CBD and learn from their experiences through the eyes of their furry companions. 
The Cannovia team decided it was high time pets had access to CBD products of the same top-tier quality as human-grade CBD but made especially for cats and dogs.
A supplement that pet owners could trust when they wanted to add CBD to their pet's wellness journey, and that's how SKYLAR CBD Pet Oil came about.
Why Buy CBD for Your Pet from Cannovia?
We, here at Cannovia know how much our furry friends mean to us – they're family. We devote ourselves to making sure they live the best life possible because we love them just as much as you do.
We have first-hand experience with the love and devotion pet owners feel, as well as a desire to help pets live their best lives possible.
Just as we do for our human customers.
30-Day Money-Back Guarantee
Free Shipping
FDA Compliant