Consuming
CBD oil
may sound strange, however, many people are turning to this form of CBD delivery  due to its accessibility, ease of use, high bioavailability and fast absorption. Not only that, but CBD oil seems to do the body a whole lot of good, especially when combined with a healthy lifestyle. If you're curious about what CBD oil is or wish to know more about how long it takes CBD to work, Cannovia is here to offer some insight. So, how long does it take for CBD oil to work? Today, we will dive into all that you need to know about CBD oil.
What is CBD?
You may be wondering, how does
CBD oil
make you feel? But first, we must understand exactly what CBD is. CBD, also known as cannabidiol, is one of more than one hundred cannabinoids found in nature. Just like THC, CBD derives from the cannabis plant however, CBD is non-psychoactive. Cannabis is made up of two different plant species: hemp and marijuana. Hemp plants produce high concentrations of CBD and do not produce any mind altering effects in the body. On the other hand,
tetrahydrocannabinol (THC)
is mainly found in marijuana plants and is well known for causing a high sensation when used. Due to this fact, in 2018 the cultivation of hemp was officially legalized in all 50 states in the U.S.. This allowed for the sale of hemp-derived products, so long as the concentration of THC stays under the mandated amount of .03% THC. Since then, products derived from hemp containing high concentrations of CBD have been popping up everywhere and on every shelf — you can even find it at your local gas station or pet shop! Of the many products we see today, CBD oil is perhaps one of the most widely known. Given the fact that CBD oil doesn't give any intoxicating effect, it has been mainly used to provide natural relief and support a wellness lifestyle.
Types of CBD Oil
When questioning how does CBD oil make you feel, you may be surprised to learn that there are a few different types of
CBD oil
. The three most common are full-spectrum, broad-spectrum, and isolate. Before you make your decision, we believe it's worth highlighting their differences.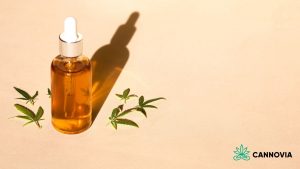 Full-Spectrum
A
full-spectrum CBD oil
product means the extract contains the whole plant components, including terpenes, flavonoids, cannabinoids, and everything else. The interesting thing about full-spectrum CBD oil is that it contains THC, however the concentration is well within the mandated amount of 0.3% or less. Therefore, it is perfectly legal to be sold and consumed nationwide. For those who are sensitive to THC, new to the world of cannabis, or concerned about the THC content don't worry! The trace amounts of THC found in these kinds of CBD products are not sufficient to cause a high feeling.
Full-spectrum CBD
products may be the most popular options amongst the rest because they provide an entourage effect in the body. The entourage effect is a newfound phenomenon, said to occur when elements of hemp, (CBD, THC terpenes, flavonoids and lesser cannabinoids work
synergistically
and thus, offer the potential of providing an even greater effect than they would on their own. Due to this fact, many people have decided to opt for full-spectrum extracts to reap all of the benefits that hemp has to offer.
Broad-Spectrum
If you don't wish to consume THC but would still like to enjoy the full effects of the hemp plants, there is an option out there for you. Broad-spectrum extracts derived from hemp contain all of the plant's values except for THC. These kinds of CBD products do not include any trace of THC, but fortunately still do provide a synergistic effect. For those who want to avoid the consumption of THC entirely, a broad-spectrum CBD oil may be the best option.
Isolates
There are a host of products out there made from CBD isolates and for good reason. While it doesn't embrace all of the plant's synergistic properties or provide the entourage effect, it is a pure product that has its own unique effect. This CBD product is essentially pure CBD and doesn't contain any other cannabinoids or terpenes. By isolating cannabinoid entirely, what's left is a pure extraction of CBD — it's as simple as it gets.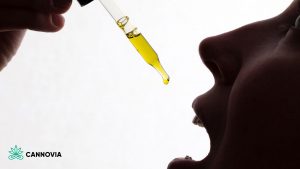 This is a great option for those who don't want to experience THC, and yet will still be able to gain the healthful effects of CBD in a unique way. Of course, the choice is up to you! Now that we've learned about all of the different types of CBD oil, one might wonder, how long does CBD oil take to work? We've got you covered.
How Long Does It Take For CBD Oil To Work?
There are a number of factors that a person should consider when trying to find out how long it takes for CBD oil to work. We believe that CBD is a personal experience — what may work for one person may not work for another person. So, how long does it take for CBD oil to work? It's important to understand the following before purchasing or consuming any CBD product.
Body Weight
CBD is fat-soluble like any other cannabinoid. For individuals with a high body fat content, CBD will be absorbed in the body and stored for longer periods of time than those with a lower body fat content. While this isn't necessarily a bad thing, it does mean that people who have more fat cells in their body will more than likely need a little more time to experience the benefits of CBD oil. So, in a nutshell, the more you weigh, the longer it will take CBD to start taking effect in your body. But don't let this discourage you if you do have a higher body fat content! CBD is safe for every body and has shown to be effective in all individuals around the globe, no matter their shape or size.
Serving Size and Potency
This may sound like a no-brainer, but the bigger the serving size of a CBD oil product a person consumes, the bigger the amount that will get absorbed in the body. This is the same idea for the purity, potency, or concentration in a CBD oil product. In other words, a high CBD content will increase the chance of maximum bioavailability. At Cannovia, after years of research, we've determined that a concentration of 1000mg is an ideal concentration. This concentration simplifies the customer decision vs. selecting a 500mg, 750mg, 1500mg, etc. At 1000mg, users simply start with the recommended serving size and then increase or decrease the serving size as necessary to achieve the desired effect.
Consistency of Use
Topical
CBD products
may provide an immediate effect. However, when consuming CBD oil, it is important to be patient. While some people report feeling an effect after the first use, the majority of people report the best effect over time, when they add CBD to their daily wellness routine. A common observation is, "I just feel different, better".  This description seems most accurate because CBD works with your natural endocannabinoid system to achieve homeostasis, or balance.  That's why some people report a feeling of calmness, while others may report a reduction in pain.  Depending upon what part of your endocannabinoid system is out of balance, will impact the result you experience.
Quality
While
CBD oil
is amazing in its own right, not all products are created equal. While some might offer the best quality money can buy, others contain impurities, additives, and other harmful ingredients. The hemp plant is a bio accumulator. This means that as the hemp plant grows it absorbs everything in the soil around it and the water and nutrients that support it. This is why comprehensive testing is essential.  Before the hemp seeds are even planted, the soil, as well as the water source that will support the crop must be tested for purity. Cannovia was founded on the principle of 'from seed to wellness'. We maintain strict standards for testing at every stage of products – from the selection of the actual seeds, to the soil in which the seeds are planted, to the extraction and the final product that ends up in our customers hands. This is the reason you should always read the label and also choose quality over everything — even price more times than not. It's like the saying goes, you get what you pay for. All of the above play a vital role in the absorption and speed of CBD's work in your body. No matter if you are just learning about CBD or completely new, you should start to feel the effects in  1-6 hours. As to how long effects will last, that will mainly depend on the strength of the CBD oil consumed and the consistency of usage.  CBD is not a miracle solution. It helps your body achieve the best 'you' – naturally.
You Can Trust Cannovia 
Amongst the many brands available on the market today,
Cannovia
has shown and proved that their products rank above the rest. By following legal guidelines and safe practices, it is our guarantee that we will always offer quality
CBD products
 that our customers can trust. Our selection is the best of the best, ranging from topicals to ingestible products including tinctures, powder and even our mynd™ chewing gum. Even more, our mission is to ensure that we provide products that have undergone rigorous testing with third-party lab-test results readily available for those who want full transparency or more information about the product they are consuming. No matter which product you decide to buy, instead of sifting through the sea of subpar CBD products out there, you can avoid the hassle and choose a brand that you can trust, Cannovia. Feel free to view our online variety of products and choose the ones that you feel will meet your needs. In no time, you'll start to feel your very best from enjoying all the incredible benefits that
CBD oil
can bring. We should say though, while you may take all things above in consideration, it is always a good idea to speak with your primary doctor and ask them questions like, how does CBD make you feel? Not only can he or she guide your decision to ensure safety, but also knows better than anyone else what will work best for you and your needs based on your situation. As a general rule of thumb: start low and slow. Always 'read the label', start with the recommended serving size, and slowly increase or decrease the serving size while carefully monitoring how your body reacts.
FAQ
How Long Does it Take for CBD Oil to Work?
Different CBD products take effect at different times. For example, CBD chewing gums, like Cannovia's mynd gum, will work in 10-15 minutes because the CBD is absorbed directly by the buccal mucosa, the lining of the mouth, while ingestible CBD products can take an hour or two to work. Most people that use CBD state that the best impact of CBD is realized when it is consistently taken over some time and integrated into a daily wellness routine.
How will CBD affect my system?
CBD helps you achieve natural homeostasis – balance. For many, CBD consumption is excellent for just that added boost of overall support. By supporting your ECS, CBD can help improve your mindset, spark motivation or creativity, and even help lower pain levels that might be holding you back. In general, cannabidiol's properties are prevalent and span throughout most parts of the body. So depending upon what physiological process is off-kilter, your endocannabinoid system will help to rebalance it. When taking CBD regularly, many people describe the effect as, 'I just feel different, better'. That's because all CBD is doing is helping you achieve your natural balance.
Can I take another dose of CBD if there is no effect?
You generally see CBD described in terms of a 'serving size'. This is because the term 'dose' typically is used to describe a prescribed measurement of a medical treatment. CBD aids in balancing your natural endocannabinoid system. As such, the amount taken and impact of CBD can vary from person to person. Thus it is always recommended that you start with the serving size described on the product you are using and gradually increase (or decrease) the amount taken until you experience your desired effect. It is important to give yourself time with consistent, daily use. Most people state that they get the best results when incorporating CBD into their daily wellness routine. If however, after several weeks, you are still not experiencing positive results, then consider changing the type of product or brand.
Are side effects from a single dose of CBD oil possible?
In general, side effects occur from taking extremely large amounts. Always be sure to follow the suggested use instructions included with the product you are using. Remember to start low and slowly increase the amount you take until you are feeling your desired effects.