Wellness
---
With the ongoing stress the nation endures due to pandemic, leading CBD provider Cannovia continues their unprecedented 50 percent price reduction
WASHINGTON, D.C. APRIL 23, 2020
Cannovia Continues to Support the Nation
During this stressful time of global pandemic, Cannovia, a leading provider of quality CBD products, reduced the price of its CBD full spectrum and THC-FREE oil drops and Agave Beverage Powder by 50 percent.
"The health and wellbeing of all Americans is at stake," said Brian Baum, President and CEO of Cannovia. "COVID-19 is escalating, but along with that the stress levels are also rising. The economic uncertainty, the isolation felt from stay-at-home orders, and worries over loved ones who may have contracted the illness pose a risk to wellness and wellbeing almost as great as the illness itself. Even for those who have not contracted the illness, stress levels can be almost unbearable."
Baum has joined countless other businesses who have rallied to support Americans with generous price reductions. "Since first announcing the price reduction on March 16th, we have heard from customers across the nation and beyond expressing their appreciation," said Baum. "Many people have said this price reduction enabled them to try CBD products for a first time. Like many, they've heard from friends or read about CBD. If our products can help anyone more easily cope in these unprecedented times of stress, we want to do our part to ensure they have easy and affordable access. Cost should not be a barrier."
While a handful of opportunistic individuals have taken to price-gouging and taking unfair advantage of shortages, many more have responded with generosity. Cannovia is proud to join with the countless retailers, manufacturers and ordinary people who have gone the extra mile to put profit second and make sure Americans have what they need.
"We all have a role to play," said Baum. "We take this action in the spirit of coming together to help each other get through this. In our own survey of CBD users, we found that stress related issues were the third most frequently cited reason for using CBD. Cannovia was founded in the spirit of promoting health and wellness, and we are proud to be a part of the solution as Americans face an increasingly stressful situation."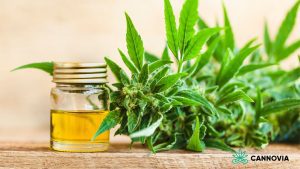 Anyone can take advantage of the 50 percent offer by visiting https://cannovia.com. The price reduction is in effect until such time as the pandemic has officially been declared to have passed.
About Cannovia

Cannovia is a leader in providing quality CBD products. Using science to equalize Mother Nature's goodness to deliver products that support balance in your life. C.hoose B.etter D.ays with Cannovia. Visit us at https://cannovia.com.