Wellness
---
Why do Cannovia customers buy CBD? "Survey says SLEEP"! 
That's right, a recent survey of Cannovia customers revealed that the third most frequent reason for purchasing a Cannovia CBD product was a good night's sleep. The same survey found that regardless of the reason for purchase, 50% of our customers reported sleeping well.
CBD for Sleep?
With more than 70 million Americans reporting at least occasional sleep issues, these results come as no surprise.  If you can't sleep, you simply can't enjoy life to the fullest.
At Cannovia, we take our customer feedback to heart. Our aim is to provide products that will help our customers maintain and support their wellness. In response, our formulary team went to work exploring the CBD/sleep connection.  While CBD has received attention relative to sleep issues, the amazing hemp plant – Cannabis Sativa – L consists of more than 100 active cannabinoids.  One of those being noticed and studied is "CBN" – Cannabinol.
What is CBN?
CBN, was the first cannabinoid to be isolated. The structure of CBN was identified early in the 1930's with chemical synthesis achieved in 1940. CBN is a product of other naturally occurring cannabinoids and is recognized for its powerful sedative properties supporting sleep and calmness.
Cannovia's New CBD/CDN Formula
The combination of CBN and CBD is a great example of the "entourage affect" – multiple cannabinoids working in harmony.
Beyond cannabinoids, our team looked at other natural substances that have been shown to impact sleep – specifically melatonin.  Melatonin has long been associated with sleep/quality sleep. As a result, Cannovia has formulated a hybrid blend integrating CBN, CBD and melatonin.  The objective is a product that supports the natural process of falling asleep, and staying asleep.
As always, it is our customers that will tell us whether or not we have succeeded. On October 15th, we're inviting our customers and friends; 25 people, to market test our new product. The goal: "a great night's sleep".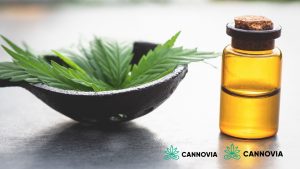 We look forward to the participants feedback and will report what we learn.
At Cannovia, we're committed to bringing innovation and cutting-edge products to the emerging world of CBD. To stay up to date on the CBD industry, new products or discounts, join our mailing list!